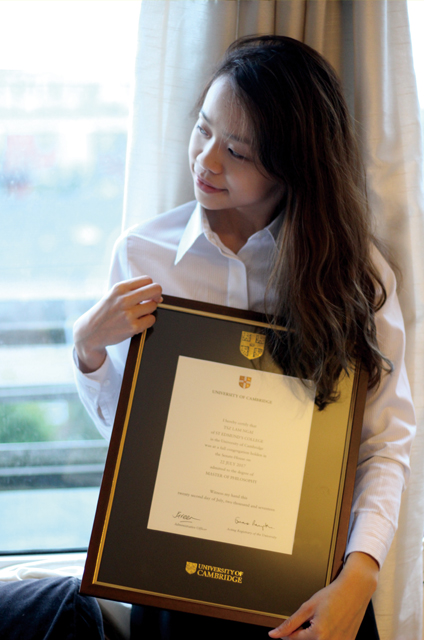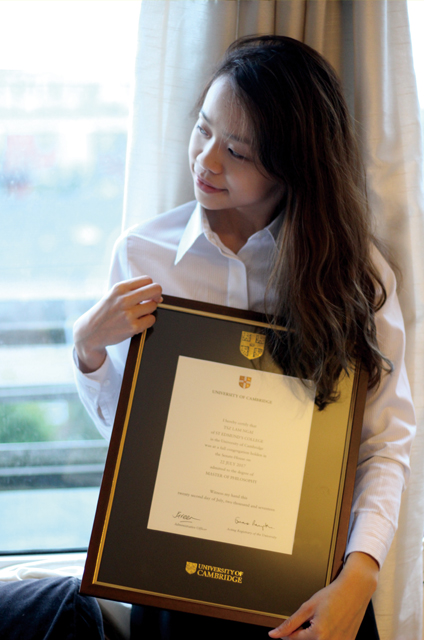 Doctoral Studies in Communication Studies, University of Michigan (awarded The Women's Foundation Hong Kong Scholarship)
Master of Philosophy in Gender Studies at the University of Cambridge
Having recently completed her Master of Philosophy in Gender Studies at the University of Cambridge, Natalie Ngai, our 2015 Broadcast Journalism graduate, will continue her academic journey to her next destination — the University of Michigan.
Because of the solid academic training and support from the Department of Journalism over her four years of studies, Natalie has grown into a young international scholar who is now confident to engage her works with the world. The ethos that she has learned is to be open to different perspectives before making a judgment, and this has made her braver when facing criticism and adversity.
Moreover, Natalie's studies at Cambridge have enabled her to consolidate the values she holds dear — humility and openness in her attempt to establish and maintain a healthy relationship with her six other flatmates from five continents, and to exchange new ideas with a student in Polar Studies regarding her research at one of the many Cambridge formal dinners.
Studying Gender Studies at Cambridge has been a springboard for Natalie to bounce higher in academia by exploring a new realm in Communication Studies, with a focus in feminist studies. As she is well-aware that academic research in Communications is becoming increasingly transnational, once again, she became determined to undertake her doctoral studies overseas. As a fertile ground for feminist media studies, Natalie chose the University of Michigan to further her research in feminist studies. As she understands very well from her Cambridge experience that studying and working overseas requires her to adjust herself at full scale, and with that mindset, she is excited about the challenges that Michigan will bring. As a feminist researcher, what she will bring with her to Michigan is her critical mind to analyse the underlying power relations arising from world inequalities, her sensitivity to cultural diversity and her feisty spirit to engage in heated academic debate.
As one of the few international students in the Department of Communication Studies at the University of Michigan, Natalie will certainly take pains to put forward a more international research agenda. To increase the challenge, besides carrying out her own research, Natalie will also serve as an instructor for a few undergraduate courses in the department, and she foresees the challenge of having to overcome many language and cultural barriers. Nevertheless, Natalie is ready to embrace all the challenges that will come along with her doctoral studies at Michigan. Through her experiences, Natalie believes that she will become more prepared for a career in academia, as well as more reflective about the issue of cultural diversity.