News and Events
Updated: 21 March 2020
In Memoriam: Dr Cheung Tit-leung (張鐵樑博士)

Faculty, staff and students at the School of Communication are mourning the loss of Dr. Cheung Tit-leung (張鐵樑博士), who passed away on March 21, 2020, aged 37. A part-time lecturer in the Academy of Film's Creative Writing for Film, Television and New Media programme, Dr Cheung had been struggling with cancer.
Professor Eva Man, Director of the Academy of Film, said she was deeply moved by his dedication, noting that he had been determined to continue teaching till the end of the semester, before he was hospitalised in mid-March. "His wit, rich knowledge in cinema studies and dedication to communicating with his students were all truly impressive," she added.
Dr Cheung did his PhD at Lingnan University, researching East Asian documentary film festivals. He was a producer for a number of Hong Kong documentaries, including Yellowing《亂世備忘》(2016) and Ballad on the Shore《岸上漁歌》(2017). His curatorial efforts included the Hong Kong Independent Film Festival (香港獨立電影節) and Autonomous Cinema (自主映室). One of his final initiatives was the Hong Kong Actual Images Association (香港真實影像協會).
Dr Cheung taught documentary, film history and aesthetics to undergraduate and top-up programme students at the Academy of Film from 2017. Students described him as an outstanding teacher who inspired them with his expertise in and passion for cinema studies and documentary filmmaking.
"I will never forget what Dr Cheung taught me in all his classes," said one of his students, Cheng Sze Chit.
Dr Enoch Tam, a colleague, also paid tribute to his contributions as a teacher. "The backbone of a good programme does not consist of large classrooms and fancy equipment. It is made up of the excellent education imparted by teachers like him," Dr Tam said.
Professor Mette Hjort, Dean of HKBU's Faculty of Arts, knew Dr Cheung since his undergraduate days at Lingnan and supervised his PhD studies. "Cheung Tit-leung lived his life fully, with courage, integrity, enormous passion and commitment, and a great sense of purpose," she said. "His generosity knew no bounds and he touched everyone who knew him. He leaves an unfillable void, but also a powerful presence, for he lives on in our memories, in the young lives he helped to guide and shape, and in the many cultural initiatives he spearheaded so tirelessly."
Dr Cheung is survived by his aged parents, for whom he was the sole breadwinner. The School of Communication is collecting donations for the bereaved family. Donations can be transferred to Dr Cheung's mother's bank account (Wong Pak Mei, Hang Seng Bank, 284-9-280199) or passed to the Dean's office with a crossed cheque payable to "Wong Pak Mei" (please mark your full name and contact number on the back). Please mail your cheque to Room 1018, Lee Shau Kee Communication and Visual Arts Building, Baptist University Road Campus, HKBU, 5 Hereford Road, Kowloon Tong, Kowloon).
Any remembrances of Dr Cheung can be shared with af-ctv@hkbu.edu.hk (please write the subject line as "Remembrances of Dr Cheung").
-----------------------------------------------------------------------------------------------------------------
Dr. Cheung Tit Leung passed away on 21 Mar, 2020 at Hong Kong Adventist Hospital, aged 37. The funeral and memorial ceremony will be held at 19:00 on 2 Apr 2020 (Thursday) at Global Funeral Parlour in Kowloon, and the encoffining ceremony the following morning at 09:00. The cremation and internment will be at Cape Collinson Crematorium.
In view of COVID-19, we kindly ask attendees to take care of personal hygiene, wear masks, and frequently washes their hands.
Funeral Committee for Dr. Cheung Tit Leung
Mr Chan Ho Lun
Mr Chan Sheung Shing
Ms Cheng Kit Man
Ms Choi Tsz Kwan
Mr Ma Chi Hang
Ms Sheng Hung
Ms Wong Sui Lam
Ms Wong Tsz Ning
Mr Woo Tam Ming

*Would those who are going to join the encoffining ceremony and the after-funeral meal, please register at (https://bit.ly/3bpomMF) so we can better estimate the number of people.

張鐵樑博士悼於公曆二零二零年三月二十一日,病逝於港安醫院,距生於公曆一九八二年五月七日,得年三十七歲。茲訂於二零二零年四月二日 (星期四)傍晚七時,在九龍寰宇殯儀館設靈及舉行追思儀式。並於翌日早上九時舉行大殮,在哥連臣角火葬場火化。

鑑於疫情緊張,敬請來賓注意個人衛生,配帶口罩,勤潔雙手。

謹此訃
聞

張鐵樑博士治喪委員會謹啟
王瑞琳 小姐
胡淡名 先生
陳上城 先生
陳浩倫 先生
馬智恆 先生
盛 虹 小姐
黃子寧 小姐
鄭潔敏 小姐
蔡芷筠 女士

二零二零年三月廿六日 *如出席大殮儀式及纓紅宴,敬請登記 (https://bit.ly/3bpomMF) ,方便預算人數。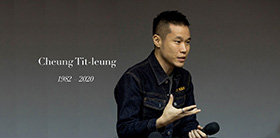 Dr Cheung Tit-leung 張鐵樑博士